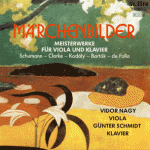 Fairy Tale Pictures – Masterworks for Viola and Piano
Nagy, Vidor (viola) Schmidt, Günter (piano)
CD aud 95.424
Vidor Nagy is the principal violist of the Wurttemberg Orchestra in Stuttgart. He is originally from Budapest and his playing has many characteristics I associate with excellent Hungarian playing. Though it is by no means weak, Nagy's lyrical playing has a light touch and a soft-spoken vocal quality. I very much like the way he plays the Märchenbilder an admire the way he gives the low register sextuplets in III a fanciful and almost ponticello quality.
It is nice o hear Rebecca Clarke sonata played in al delicate and rhapsodic style and with a little bit of Hungarian accent, especially in II. I also like the intimacy of the Kodaly Adagio, a piece from 1905 written in a dreamy romantic style.
---
Übersetzung: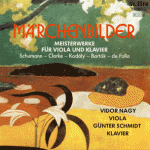 Märchenbilder – Meisterwerke für Viola und Klavier
Nagy, Vidor (Viola) Schmidt, Günter (Klavier)
CD aud 95.424
Vidor Nagy ist erster Bratschist des Württembergischen Staatsorchesters Stuttgart. Er kommt ursprünglich aus Budapest und sein Spiel hat viele Eigenschaften, die ich mit exzellentem ungarischem Spiel verbinde. Obwohl keineswegs kraftlos, hat Nagys Spiel doch viel Leichtigkeit und etwas Sanft-Gesangliches. Ich mag die Art, wie er die Märchenbilder spielt sehr und bewundere, wie er den Sextolen im tiefen Register des dritten Satzes eine fantasievolle und beinahe "sul ponticello" gespielte Charakteristik gibt.
Es ist schön, die Sonate von Rebecca Clarke zart und erzählend gespielt zu hören, mit einem kleinen ungarischen Akzent, besonders im 2. Satz. Ich mag auch die Intimität des Adagios von Kodaly, einem Stück aus dem Jahr 1905, das in verträumt romantischen Stil geschrieben ist.