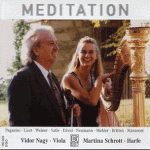 MEDITATION
Werke von Paganini, Liszt, Weiner, Satie, David, Neumann, Mahler, Britten, Massenet und Toselli;
Vidor Nagy (Viola), Martina Schrott (Harfe) (2000)
Bayer / Note 1 CD 150 028 (68 Min.)
Most of the music on this recording has been transcribed (there is very little original music for viola and harp), and some of the transcriptions are better than others. The music by Weiner, David, and Neumann seems to be originally for viola, but not for harp. The Paganini Viola Sonata is one of the not-so-good transcriptions because for the later part of the introduction the harp does little to offset the heaviness of the very difficult viola part. In the variations, the lightness of the harp does supply some interesting contrasts.
Franz Liszt's "Romance Oubliée", originally for violin, sounds far more melancholy oh the viola, as does Massenet's "Meditation". The transcription of the Toselli Serenade is very appropriate, because the melody is played in its original range. If the orchestral introduction was indeed written for solo violin, it should have been written for viola (I believe that the Gigli recording uses a viola). The Satie "Gymnopedie 1) is very fast and light and set in the viola's resonant upper register. It sounds very natural played on the viola, and the quick tempo allows Nagy to bring out the asymmetrical nature of the melody.
One of the most interesting transcriptions is the Adagietto from Mahler's Fifth Symphony. Nagy and Schrott have reduced the music down to melody, with occasional double stops in the viola, and harmony. It is an wonderful idea and takes full advantage of the range of the viola as well as he music's emotional range. Nagy plays this with great passion and sensitivity. Another transcription that sounds completely at home on the harp is the Britten Lachrymae. Written originally for viola and piano, it is based on John Dowland's lute piece. Because of the lute-evoking qualities of the harp, it sounds better on harp than on piano.
---
Übersetzung: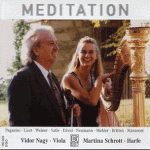 MEDITATION
Werke von Paganini, Liszt, Weiner, Satie, David, Neumann, Mahler, Britten, Massenet und Toselli;
Vidor Nagy (Viola), Martina Schrott (Harfe) (2000)
Bayer / Note 1 CD 150 028 (68 Min.)
Meditation CD-Besprechung aus American Record Guide März/April 2002
Die meiste Musik dieser Aufnahme ist bearbeitet worden (es gibt sehr wenig Originalmusik für Viola und Harfe), und einige der Bearbeitungen sind besser als andere. Die Stücke von Weiner, David und Neumann scheinen original für Viola geschrieben worden zu sein, aber nicht für Harfe. Die Paganini Bratschensonate ist eine der nicht so gelungenen Transkriptionen, denn im späteren Abschnitt der Introduktion tut die Harfenstimme wenig, um sich gegen die Schwere des extrem schwierigen Violaparts abzusetzen. In den Variationen steuert dagegen die Leichtigkeit der Harfe tatsächlich ein paar interessante Kontraste bei.
Franz Listzts "Romance oubliée", im Original für Violine, klingt viel melancholischer auf der Viola, ebenso Massenets "Meditation". Die Transkription der Serenade von Toselli ist sehr gut (für Viola) geeignet, weil die Melodielinie in ihrem originalen Tonbereich gespielt wird. Falls die Orchestereinleitung wirklich für Solovioline komponiert worden ist, hätte sie für Viola geschrieben sein sollen (ich glaube, dass in der Gigli-Aufnahme eine Viola verwendet wurde). Die "Gymnopédie I" von Satie ist sehr schnell und leicht und ist im voluminösen oberen Register der Viola angesiedelt. Sie klingt auf der Viola sehr natürlich, und das schnelle Tempo erlaubt es Nagy, die asymmetrische Natur der Melodielinie gut herauszuarbeiten.
Eine der interessantesten Bearbeitungen ist das Adagietto aus Mahlers Fünfter Sinfonie. Nagy und Schrott haben den Gehalt der Musik auf die Melodik und Harmonik zurückgeführt, mit gelegentlichen Doppelgriffen in der Viola. Das ist eine wunderbare Idee und zieht den größtmöglichen Nutzen aus dem Tonumfang der Viola genauso wie aus der emotionalen Spannweite der Musik. Nagy spielt dies mit großer Leidenschaft und Sensibilität.
Eine weitere Transkription, die sich auf der Harfe absolut stimmig anhört, ist Brittens "Lachrymae". Im Original für Viola und Klavier, basiert es auf John Dowlands Lautenstück. Da man auf der Harfe den Lautenklang sehr gut heraufbeschwören kann, klingt es besser auf der Harfe als auf dem Klavier.